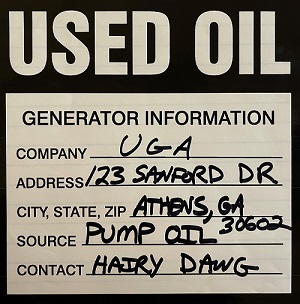 All containers holding used oil should be labeled with the exact words USED OIL while being stored.
The Environmental Safety Division can provide adhesive labels such as the one on the right, however a hand written or self-printed label with the words USED OIL are acceptable. 
Used oil is recycled using an external service provider and should be submitted through the Chematix system for pickup. A specific option is provided for used oil waste cards in the Chematix system.
If you have questions about specific processes concerning used oil or need labels, please contact us at hazmat@uga.edu or (706)-542-5801.